Sonny Molloy's Redbreast 16 Year Old Single Cask
Redbreast Whiskey has chosen Sonny Molloy's Bar as the first on-trade establishment in the world to release a 16 Year Old Single Cask whiskey. Exclusively bottled for the award-winning bar in the heart of Galway City, it marks the first ever partnership between Redbreast Whiskey and a bar.
Aged in a 500 litre Spanish Oak sherry cask, only 570 bottles have been yielded. The result is a limited-edition and truly collectable whiskey. Just 200 bottles have been released for general sale by Sonny Molloy's this Friday, November 16th, at the exclusive price of €345. Each bottle forms part of an exclusive gift set, featuring two specially engraved Galway Crystal tumblers and a certificate of authenticity, signed by Master Distiller, Brian Nation.
Redbreast is the largest-selling Single Pot Still Irish whiskey in the world and one of the most decorated – it is regarded as the definitive expression of traditional Pot Still Whiskey.
Partnering with Redbreast is an honour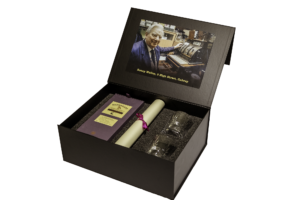 the team said "Our shelves are already full of the finest selection of Irish whiskey but the addition of this label, unique to us, has been a dream in the making for many years. Since releasing the whiskey, there has been phenomenal demand. The whiskey was released in honour of our namesake Sonny Molloy, so it's a fitting coincidence that it arrived into the bar on what would have been Sonny's 92nd birthday."
Steeped in Galway's rich whiskey heritage, Sonny Molloy's is one of the country's most popular whiskey bars and is a founding member of the Galway Whiskey Trail. The premises was formerly a renowned drapery shop run by the legendary Sonny Molloy. He was a larger-than-life character, famed for his friendly service and welcoming presence. The current bar-counter is still the very same as when Sonny worked behind it.
Indeed, Sonny himself appreciated a fine Irish whiskey, his favourite being a Redbreast 12 Year Old, which he regularly enjoyed as a nightcap. When releasing its first whiskey creation, it was therefore a natural choice for Sonny Molloy's to partner with Redbreast.
The Sonny Molloy's Redbreast 16 Year Old Single recently won Gold Medal for Best Single Cask Whiskey at the Irish Whiskeys Awards 2019 and is available to taste by the measure in the bar or to take home as a gift set. The gift set can be delivered to nearly anywhere in the world and can also be purchased in store at McCambridges of Galway or Celtic Whiskey Shop in Dublin.
For further details email info@frontdoorpub.com.
Regular updates available on Sonny Molloy's Facebook, Instagram, and Twitter accounts.
Tasting Notes
Nose – The initial delicate aroma of dried fruits of raisins and prunes quickly move across the spectrum to a zesty lime character with deep rich notes of wood, leather and coffee, while the pot still spices build over time adding complexity and balance.
Taste – Full and rich with a luscious texture that evolves as the spices continue to build on the oak tannins. Lime zest with dark chocolate and a mild nuttiness work in tandem creating additional layers of flavour.
Finish – Rich and lingering with the pot still spices slowly fading allowing the toasted oak to continue until the very end.
To order today call 091 563 757